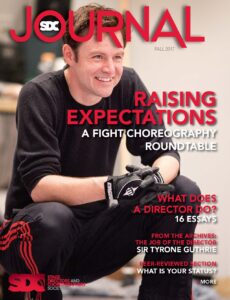 Please save me from googling. I begin this letter for each issue by reviewing the magazine and considering what we hoped to accomplish. Have we given readers a glimpse into the full range of the Membership, sharing what you do and how you do it? Are there surprises? Have we taken the opportunity to celebrate successes while also illuminating the challenges directors and choreographers face as they ply their trade? Are we an interesting read for collaborators, friends, and family? Given the central topic at hand in this issue, "What Does a Director Do?", instead of staying on task, I found myself in Google hell. I meant to just fact check a couple of things. Knowing that the role of the director as an independent entity is fairly new, I wanted to throw in a couple of dates and historical references as a lead into the body of my letter. Something about how in ancient Greece, the author staged his own plays and that the task of directing was referred to as didaskalos, the Greek word for "teacher." Or in medieval times, elaborate productions of the mystery plays required vision and coordination to pull off, and so we saw the emergence of the pageant master or stage manager. I do love the French metteur en scène—scene setter. And, of course, I wanted to talk about the brilliance of a generation of directors who in the first half of the 20th century began to bring their extraordinary vision and ambition for the theatre to bear on elevating the craft of directing to an art form: Bertolt Brecht, Peter Brook, Zelda Fichandler, Margo Jones, Eva Le Gallienne, Yuri Lyubimov, Vsevolod Meyerhold, Vladimir Nemirovich-Danchenko, Giorgio Strehler, Margaret Webster, Orson Welles, Mary Hunter Wolf, Franco Zeffirelli…
I knew I was in trouble when I began reading someone's dissertation on the topic written some 25 years ago. I pulled myself out of the black hole of the internet—although I bookmarked the dissertation to come back to later—to return to the question at hand.
What does a director do? Does the answer lie somewhere in these words of Jerome Robbins? "For it isn't only what one says, but how one says it that lifts a work from the ordinary." For SDC's 50th anniversary, we produced a rather irreverent video of industry colleagues trying to answer the question. For some, the result was a perfect encapsulation of our challenges, as it was nearly impossible for anyone to succinctly communicate what it is a director does—and this came from some of your closest collaborators. The only saving grace was that at the time, even fewer could articulate what SDC did. I've been challenged by Members over the years to take up the question again. This time not for a video for a party, but seriously. As the industry has evolved and the collaborators expanded, do people know what it is a director does? As an experiment, we asked 16 people to answer the question for this issue of SDC Journal. Smart, passionate, theatre-loving, and some theatremaking
people.
As we consider what it is a director does, we also share with you another way in which choreographers choreograph. While plays have included fight scenes since long before the time of Shakespeare, over the course of the past couple of decades choreographing violence has emerged as a ritical skill set within the creative team. Someone with the capacity to envision and train actors to execute fights safely and with precision has become a necessity. This particular type of staged movement, as is the case with dance, is critical to storytelling and requires professionals at the top of their game. Geoffrey Paul Kent moderates a roundtable with a team of SDC fight choreographers and directors. It is an honor to feature this illustrious group and a privilege to all of us here at SDC to be representing them in numerous jurisdictions across the country.
One of last year's Fichandler finalists, Aimée Hayes, shares with us from her base in New Orleans in "What I Learned", while Allison Narver is featured in our newest column, "Why I Made That Choice." Several years ago, the majority of you responded to a study conducted by the Wellesley Centers for Women as they were commissioned by Carey Perloff and A.C.T. to try to uncover the reasons for the lack of women in leadership positions within the field. That study inspired Member Kristen van Ginhoven to host the first Berkshire Leadership Summit this fall. SDC will be on hand at the summit and will report back!
We lost two greats this summer, Sam Shepard and former SDC President and founder Danny Daniels— two artists I never imagined putting in the same sentence. I know we lean towards Sam Shepard as a writer, but his career brought him to SDC as well. From all accounts, he was a great friend to directors and Loretta Greco shares her reflections on Sam's passing.
Some weeks back, I received a call from Danny Daniels' daughter, Ann Giagni. Danny passed away following a stroke. He was 92. It was a sad and wonderful conversation. She shared stories and told tales of his last years and expressed deep appreciation for SDC. I never had the honor of meeting him and am sorry I didn't try to make that happen on a number of my travels to L.A. We talked about Tap Heat and how his first stroke came just days after he finished filming. (To see the film, search for Tap Heat on YouTube.) Ann repeatedly talked about how significant Danny's SDC pension was to him later in life, and wondered if young choreographers fully appreciate how meaningful this benefit of SDC Membership really is. Although most recently he suffered from dementia, Danny enjoyed his connection to the Union, sitting with his SDC Journal as soon as it arrived. She loved looking through it with him. (Yes, by now I am on the verge of weeping.) The most amazing story came at the end of our conversation. She had read that there had been some success in reaching dementia patients through music, so she began to play show tunes from great musicals of the '40s and '50s. I swear she said he died as they were listening to Gypsy. As much as I wanted to ask her to repeat that to make sure I heard her correctly, I just couldn't. So I will imagine that moment as I believe I heard it.
Whatever the truth of that moment was, we have all experienced the indelible mark that certain pieces of theatre or dance or music have made on our lives. The work we do—that you do—reveals our shared humanity. Perhaps that is what a director does.
In solidarity,
Laura Penn
Executive Director