"The primary challenge should be to produce plays that reach out to people and change their lives." – ARTHUR PENN, Founding Member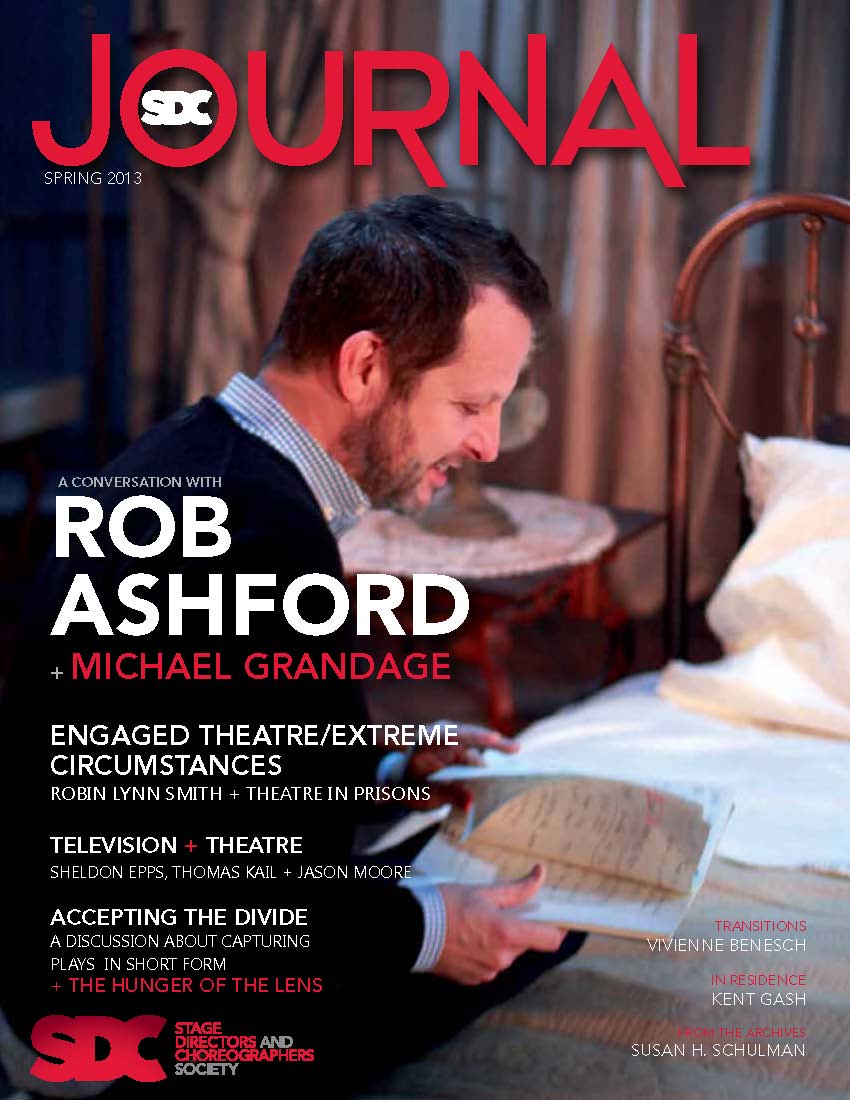 Most of us want the work we do to make a difference, to contribute somehow to those we connect with today and those that follow. In our work here at SDC, we want to articulate and attempt to quantify the influence directors and choreographers have on the world around them. This influence is significant and intangible, illusive and apparent, all at the same time. SDC Journal is one way we share stories among peers, try to illuminate the alchemy of the crafts—for the benefit of the Members, of course, but also for the health of the industry, an industry that is critical in any civil society.
For generations, stage directors and choreographers have been striving for excellence, advancing their craft, and with it, theatre itself. They assume, consciously or not, that their own unique, relentless pursuit is a worthy endeavor. They believe deeply that the connection between artist and audience matters. How each of you came to your calling is a different tale, a fairy tale of sorts, filled with rites of passage, tall walls, and a seemingly endless maze that travels through dark valleys and scales steep mountains.
The Founders of SDC took to heart the responsibility of the Society to advance the craft. They challenged directors and choreographers to ask the best of themselves in service to their own artistry and the field. Through mentorship, as well as through osmosis, our Membership today takes this charge just as seriously. It is your vitality as artists, as leaders, that called SDC into existence, and that vitality continues to require that we do our best work to support you.
Would it be easier if there were only one or three or six aesthetics? What if there were just seven paths that led to a career as a stage director or choreographer? These paths might reveal the twelve ways to successfully stage Romeo and Juliet, or the nine effective interpretations of Three Sisters, or five surefire ways to support a playwright bringing new work to the stage.
There could be a handful of ways architects were allowed to design theatres, and we could ignore advancing technology, thereby ensuring the production process remained consistent and always predictable. Directors' responsibilities would be to block actors while choreographers only taught tap dances to chorus lines. Everyone would know who was who and what was what.
Alas, vision and passion rarely take well to such constraints. Inspiration defies boundaries, and rarely can someone retrace the steps of another to find the beginning of their genius.
In this issue—our fourth—we continue to strive to represent the breadth of our Membership, their work, and their devotion to the theatre. We discover what inspires Rob Ashford and what drives
Robin Lynn Smith. We gather some of our best directors to seek a solution to presenting moments of dramatic productions for award shows such as the Tonys. Another gathering of talented Members share their experiences of honing their skills, working back and forth between screen and stage. Kent Gash teaches, David Dower challenges us, and we are called to action to participate more fully in the training of our next generation through the Kennedy Center American College Theater Festival, and more.
While we decided early on not to have "theme" issues, I can't help but notice in the final reading an underlying theme has emerged, literal and not, it's one of impact, of making a difference. These Members direct and choreograph and dedicate themselves to making a difference in the world. They direct and choreograph productions large and small that touch diverse audiences. They train young artists, validate the disenfranchised, build audiences of tomorrow, and create work that gives employment to hundreds, thousands of workers over time.
None of this is easy in a time of reduced resources where you are called upon to do more with less. It's not easy in a world where we now have a generation of digital natives born after the turn of the century who will never know a life without a swipe screen; they quite simply have the world at a fingertip! Our artists have become the social safety net in many communities; children's theatres are our public schools' arts specialists. Our Members, many of whom are artistic leaders, are called upon every day to make hard decisions designed to sustain artists and communities alike. While not ignoring these complexities, it is inspiring to read these pages and see directors and choreographers doing their part. They are finding a balance that allows them to grow as artists, to take risks, and to bring the next great work to audiences around the world.
This issue closes with Arthur Penn, a Founder of SDC and celebrated director of stage and film. Penn was never too shy to praise or criticize and had a passion for the theatre that drove him to relentlessly pursue excellence in his work. There was a piece spinning around the web last year that seems to have originated in 2006 during a conversation with Penn in New York. "No Friction, No Interest, No Play" is provocative to say the least. Provocation aside, in his closing, he says, "the primary challenge should be to produce plays that reach out to people and change their lives." SDC Members strive to do this each and every day.
Laura Penn,
Executive Director