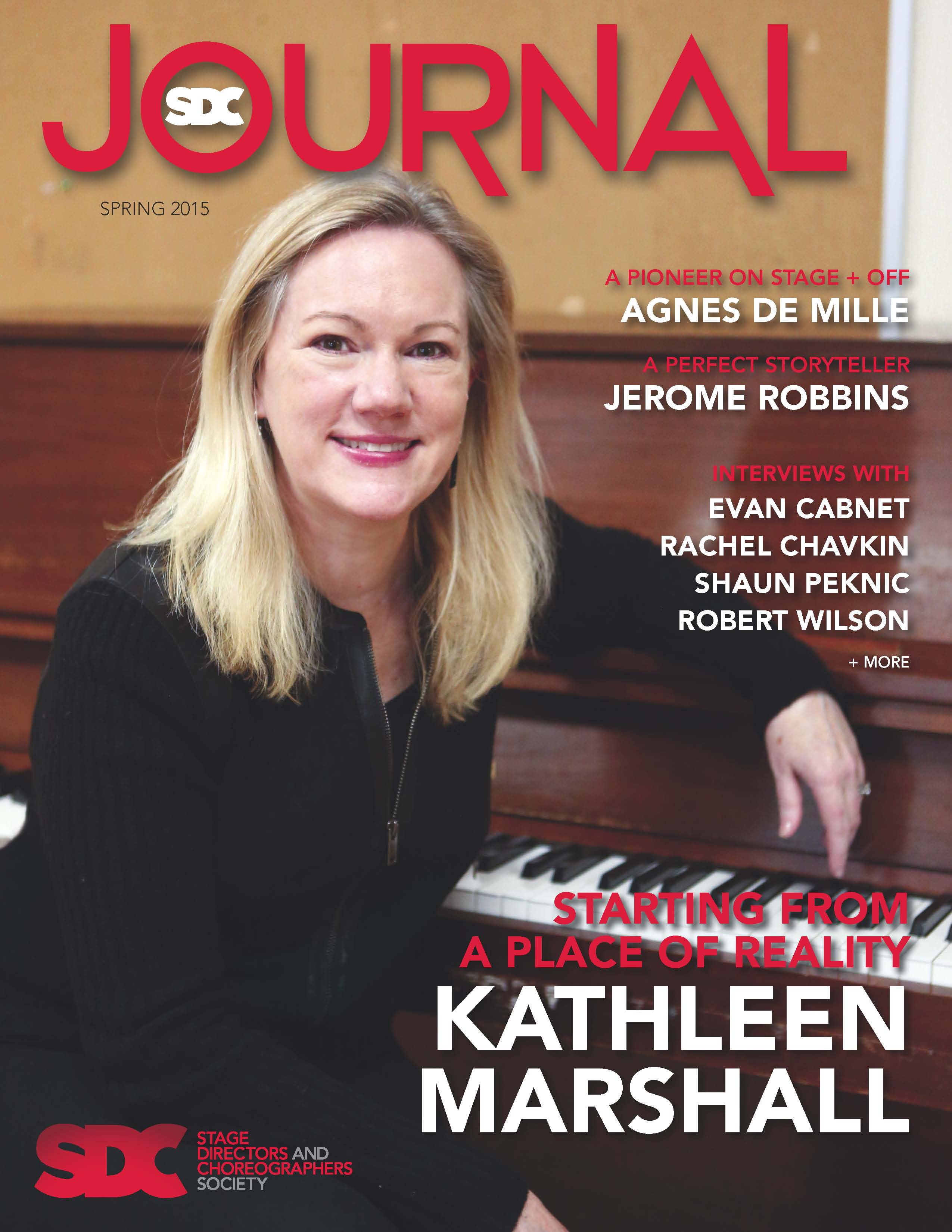 SDC has been at 1501 Broadway for 40+ years. Can you imagine what's in the back room filing cabinet? Or those storage boxes on the very top of those shelves? Who is brave enough, or curious enough, to look in the back of that closet? For months we have been carefully sorting, sending items to long-term storage, donating, determining what we all can (or can't) live without.
The other day while organizing some files from the early years, I found a pile of handwritten notes. They weren't attributed to anyone's hand, but they were dated: 1965. It appeared to be minutes from a meeting. Perhaps a Board meeting or an early Foundation meeting. The question raised was all too familiar: "What does a director do?" I read, and reread, much of the text, faded or in a scrawl not easy to decipher. I tried to piece together the question and answer, hoping the author and those around the table had found the answer and we could claim victory! But alas—either they had not found the perfect phrase or set of sentences to answer the question posed, or with the passing of time the narrative was lost in the creases of the yellowed lined paper.
In my time at SDC, I have come to understand that maybe you have to be one of the lucky people who has witnessed a director working in all their various moments and settings.  The auditions, retreats with writers, meetings with producers, preliminary design sessions, final design presentations to the shops, production meetings, first rehearsals, techs, notes after first preview, more meetings with writers, understudying rehearsals, vetting marketing materials, attending Board meetings, cocktail parties, observing life go on around them, seeking moments of truth, etc., etc.
Last month I was in Seattle for the first ever public conversation co-produced by regional representatives for SDC and the Dramatists Guild: Linda Hartzell for SDC and Duane Kelly, the Seattle regional representative for the DG. Executive Director Ralph Sevush and I engaged in a lively discussion moderated by Todd London, covering a lot of territory. We focused on the work we have been doing to bring the organizations closer, aligning our resources when possible to bring strength to our collective endeavors. We talked about challenges for directors and writers, how they are different, how they are similar, about where we agreed and where we agreed to disagree, often on critical issues. We talked about progress on moving the dialogue concerning collaboration agreements forward. It was great—"and" what really struck me was how often I found myself saying "and." Yes, "and." Given the nature of the Dramatists Guild, the conversation gravitated toward the collaboration between director and author in the development of new work. While crucially important to the field and the lives of our collective Members, I realized that—although a very significant part of your work—it really is only part of what you do, and SDC Journal exists to represent that full spectrum as best we can, quarter by quarter.
In the last issue we tried a new editorial concept. Our editorial committee has guided SDC Journal staff toward a series of articles that are loosely linked—a suite, if you will. In the last issue it was interviews with Richard Foreman, Peter Brook, and Martha Clarke, three of our most prolific auteur Members. This month you have a suite from leaders in musical theatre focused on revivals, preservation, and replication; SDC Members whose careers have, among many other things, ensured that the great dance musicals are preserved and revived for generations to come. Kathleen Marshall's work on revivals has brought classic American musicals to life with a deep respect that infuses the material with contemporary appeal. We explore the legendary Jerome Robbins through his estate and the Robbins Foundation, which is often referred to as the leader in preservation for stage choreography. And then there's Agnes de Mille, one of the most significant forces in American musical theatre. Instrumental in SDC's founding, she was an advocate and an activist for theatre and individual artists. She was tenacious, and we are the beneficiaries
of her uncompromising character.
There is an amazing file, tucked away in the back room and barely hanging together by a thread that is labeled "AGNES de MILLE." From the looks of its contents, she wrote on a regular basis to Shepard Traube and officers of the newly formed SSDC from all around the world. She wrote of art and commerce. She was passionately committed to expanding property rights to include choreographers explicitly. And she was successful in Congress at the negotiating table and on the stage. Of course, she eventually became the first woman president of SDC "and" I can see her sitting alongside the men—Traube, Robbins, Marre, Stone, among others—and they were the beneficiaries of her company, I am sure.
There is also a Bob Fosse file, a Gower Champion file, and a Donald Saddler file. In November of last year, Donald passed away peacefully at the Lillian Booth Actors Home of The Actors Fund in Englewood, New Jersey. They took great care of Donald in his final years. (We love the Actors Fund.) It was Kathleen Marshall who first introduced me to Donald when I arrived at SDC. He was slated to receive the "Mr. Abbott" Award that year, and he had performed in the 2001 Broadway revival of Follies with the marvelous Marge Champion, which Kathleen Marshall choreographed. He was spirited, involved—as you can see from the Western Union telegram above—and most excited to watch the careers of a new generation of choreographers emerging on the scene. Donald had been a dancer before his career as a choreographer took flight, just like Kathleen Marshall, Agnes de Mille, and Jerome Robbins, and just like all our SDC Members, he was an original.