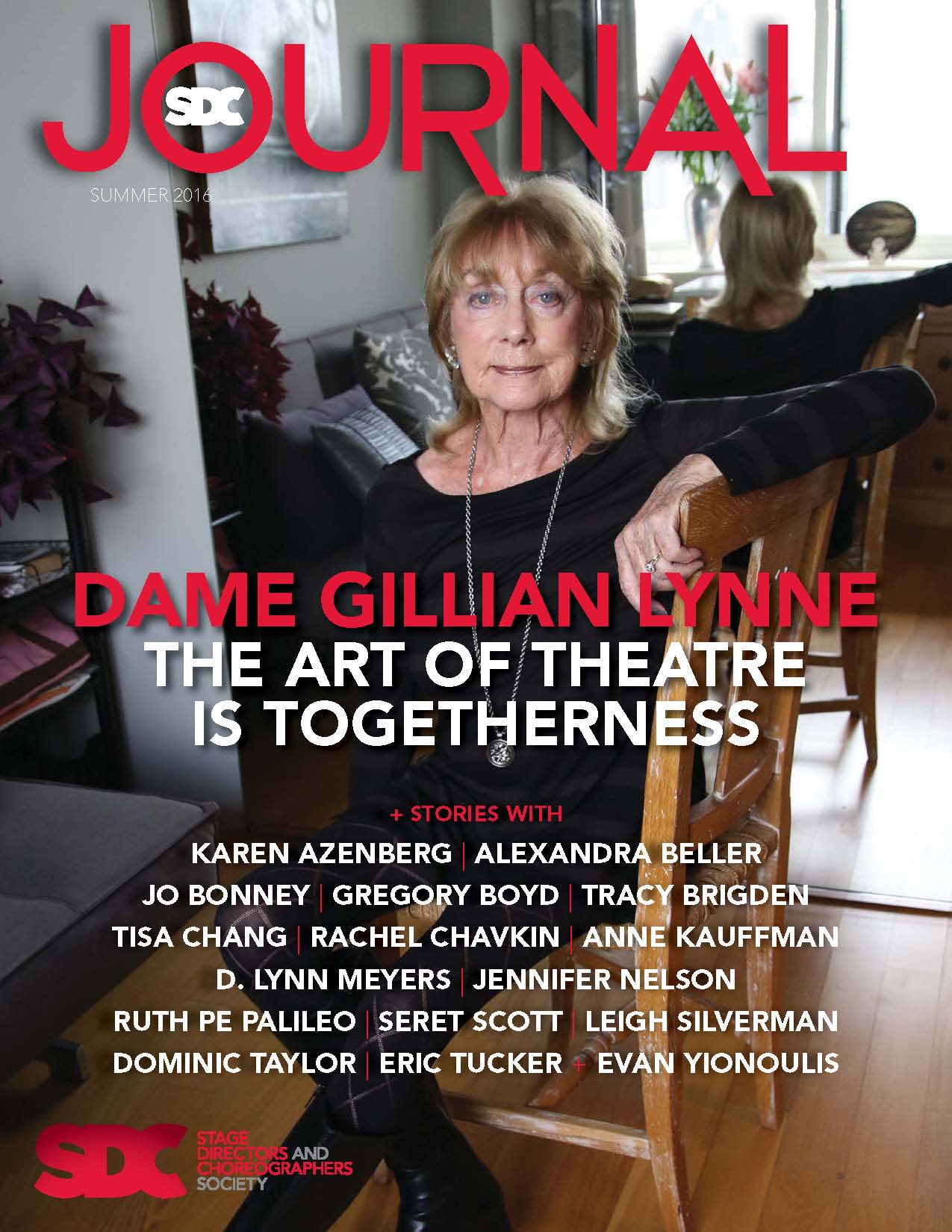 We are activists here at SDC. Our day-to-day work includes advocating for of directors and choreographers, fighting for better wages, safe guarding pension and health funds, and protecting the intellectual property of our Members. We trouble shoot, problem solve, and, sometimes, we just listen. We work hard to build community amongst and between our Members because we know it is the collective that brings us strength. We are determined to find those moments when the needs of directors and choreographers align with the needs of others so that we can join together to make the industry stronger and more vibrant for everyone. We take pride in our work, and each day that we are able to make progress towards these goals is a good day.
In your hand, you are holding the first issue of our fifth volume of SDC Journal. It is hard to imagine a time when we did not have this publication. As a reader, I feel like I have had the great gift of master classes with directors and choreographers. SDC Journal offers a history lessons on the greats who laid down the diverse and eclectic foundation that so many expand upon today. With each issue, I have been given insights into that craft as can only be provided by the contemporary masters and I see glimpses into what lies ahead. My assumptions are challenged, my experiences are validated, and I find great satisfaction in celebrating the success of SDC Members.
In my first letter, in Volume One, Issue One of SDC Journal, I spoke briefly about the challenge given me by the Executive Board as I was hired: "to deepen the understanding among our own constituents, as well as the larger community, about the work of directors and choreographers,"—or, to simplfy: to answer the question, "What does a director do?"
While we continue to look for that succinct, infectious turn of phrase, today I can look on my bookshelf and see what it is directors and choreographers do, have done, and will do.
And there is so much more to share. The conversations with the SDC Journal Editorial Advisory Committee get richer and more ambitious. The aspirations for the magazine get bolder; our efforts to grow a subscription base beyond the Membership grow more significant.
This issue is nothing short of remarkable. A couple of years ago, I had a great pleasure of crossing paths with Dame Gillian Lynne. She has been ever-present at SDC, legendary and contemporary all at once. But it was through Nina Lannan that I was encouraged to connect directly with Gillian. If you are blessed to know her, you will feel her laughter and passion rise off the page. If you haven't had the honor, you will certainly feel like you have in this interview with Nina.
We launch a new recurring column this month – "Talkback," featuring Dominic Taylor. We travel across the country to speak with Karen Azenburg, Tracy Brigden, D. Lynn Meyers, Jennifer Nelson and Ruth Pe Palileo – women leading in a myriad of ways within non-profit theatre. There are similarities in their reflections and yet, at the same time, each perspective is so completely distinct. We puzzle out the challenges of leading as a freelancer with SDC Board Members Jo Bonney, Rachel Chavkin, Anne Kauffman, and Leigh Silverman in a roundtable moderated and led by Evan Yionoulis.
Seret Scott— I first heard of Seret's work around 1990, when she was emerging as a director. It would be nearly 20 years before I would have the pleasure of meeting her. Having now worked with her for close to nine years, I thought I could say I knew Seret. And while I do, and while I recognized the depth of her heart and talent, I really had no idea until I read this interview with Chris Ashley.
In addition to this being the beginning of our fifth Volume of SDC Journal, it is the beginning of our second year collaborating with scholars, Members of the Association of Theatre in Higher Education (ATHE), to publish peer-reviewed articles and book reviews. We celebrate this partnership with a special insert this issue which brings you a special Forum on Training, accompanied by a comprehensive and growing list of texts by and about women directors and choreographers.
We close this issue with the brilliant Harold Clurman. In the introduction to the American Masters presentation of Harold Clurman: A Life of Theatre, is was said: "He believed that the new American Theatre would not simply be a place of entertainment, but an opportunity for artists to express their political and spiritual visions." I think it is, and I hope we, here at SDC Journal, offer the Membership and greater theatrical community access to directors and choreographers as they strive to do just that.