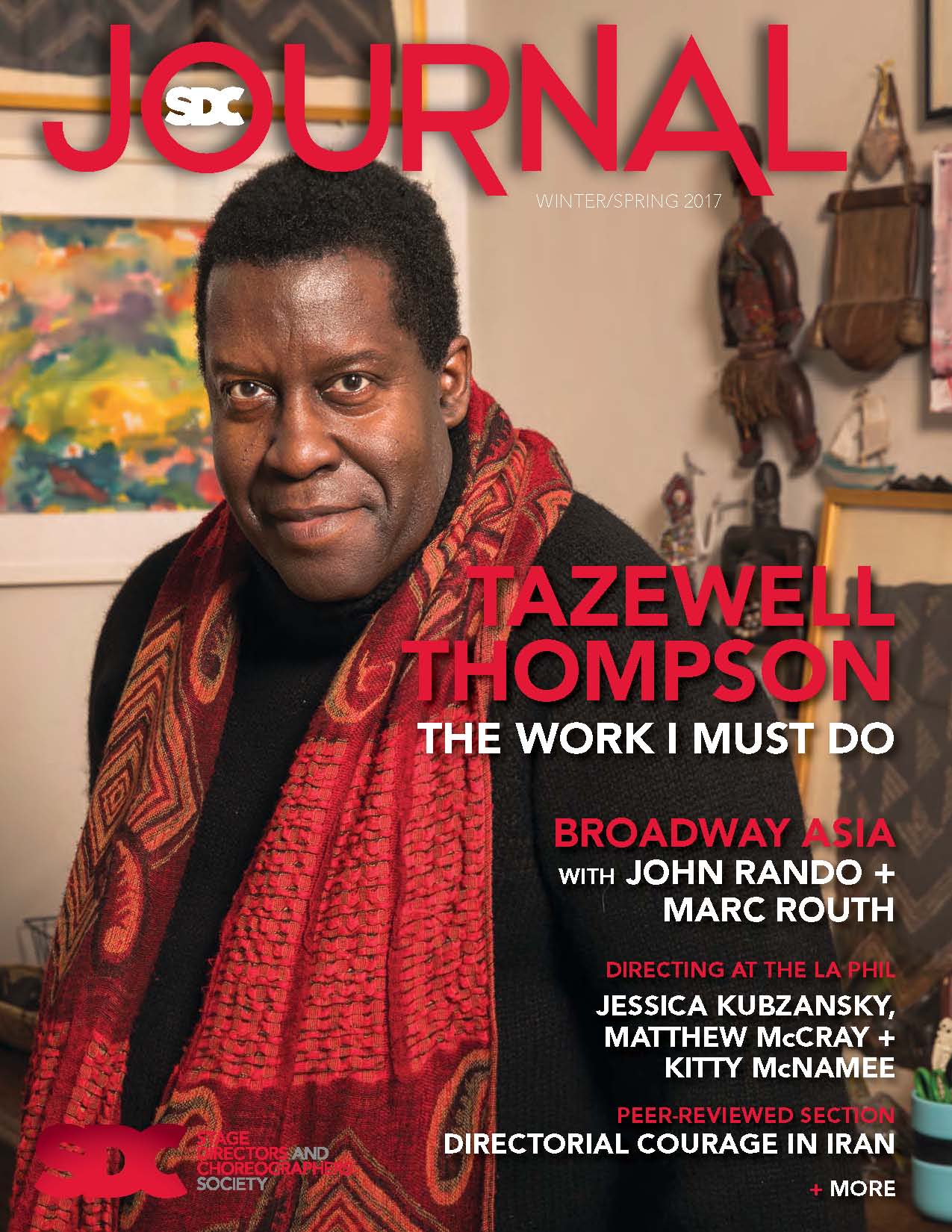 April 2017 will mark 58 years since the founding of Stage Directors and Choreographers Society. While not an anniversary that calls you to celebrate big, it does remind us that 60 is right around the corner—and yes, we have begun to talk about how to mark SDC's sixth decade.
Anniversaries provide an opportunity for celebration and for reflection, for evaluation and for dreaming. When we were planning the 50th, we knew that if all we did was throw a great party, we would fall short. In considering that milestone year, we found our focus in the words Unite, Empower, Protect. Words matter. Words can make the difference. These three words, some seven syllables, have had such an impact on SDC. They are beacons on the horizon guiding us forward. They are filters through which we make daily decisions. They inspire us to find new ways of strengthening the community and in doing so give us the power to make the creative and personal lives of directors and choreographers better so that they—you—can give theatregoers something delightful, enlightening, challenging, and at times comforting.
The imagining of the SDC Journal came from the 50th Anniversary Initiative. The capturing of your work, in words on the page, is hard and yet critical to archiving your legacy as well as shaping the future. As we put the finishing touches on the 19th issue, I am once again knocked out and inspired by your reach and your impact.
This issue—an issue which combines winter and spring—tells of stories staged hidden in hallways in Iran, in concert halls and opera houses, and onstage in major venues in Beijing and Shanghai… Our Peer-Reviewed Section, under the leadership of Ann M. Shanahan and Anne Fliotsos, takes us on an eight-year, sometimes harrowing, journey to stage The House of Bernarda Alba in Tehran.
The Founders would likely have been intrigued by John Rando's recent experience in China directing for Broadway Asia, which once focused almost exclusively on touring U.S. productions, but now works in partnership with Chinese theatrical producers and is beginning to create new musicals in China with worldwide aspirations. An exploration of Pace University's BFA in Commercial Dance, led by Rhonda Miller, reveals a new path for dancers and choreographers entering this increasingly transmedia profession. Speaking of transmedia, Jessica Kubzansky, Matthew McCray, and Kitty McNamee share their experiences directing symphonies for the young at the LA Philharmonic.
My mom is a vocal coach, so my childhood was filled with musical theatre and opera. I can remember being about eight or nine years old when she would gather all the kids from the neighborhood on a sunny afternoon. We dutifully sat in a circle on the shag carpet in our living room as she would tell us about Lieutenant Pinkerton, Isolde, the Dutchman, or Magda Sorel. She would gently guide us into the stories while deftly dropping the needle in exactly the right spot—the powerful aria, the dissonant chord, the heartbreaking duet. No one moved, even as we were terrified. There was a restless night's sleep—or two—in twin beds throughout the cul de sac as kids tossed and turned hoping never, ever to cross paths with Turandot. All that to say I have a soft spot in my heart for opera and for our cover story Tazewell Thomspon's passion for the form. My first experience of his passion for stories of scale and their power to transport us deeply into another world—or, as he says, "the assault and explosiveness to the sense"—was when I saw his Mother Courage in 1999.
Finally, we have our Founder, Gian Carlo Menotti. He was one of those relentless artists who gave us a body of work that lives on today. Menotti once said of himself, "I should have worked harder in my life." Can you imagine what the world would be like if everyone worked with the ambition of a director or choreographer?