"Have the courage to follow your most idiosyncratic instinct. Find that most radical, insurmountable difficulty in your work and make that the center of your work." – RICHARD FOREMAN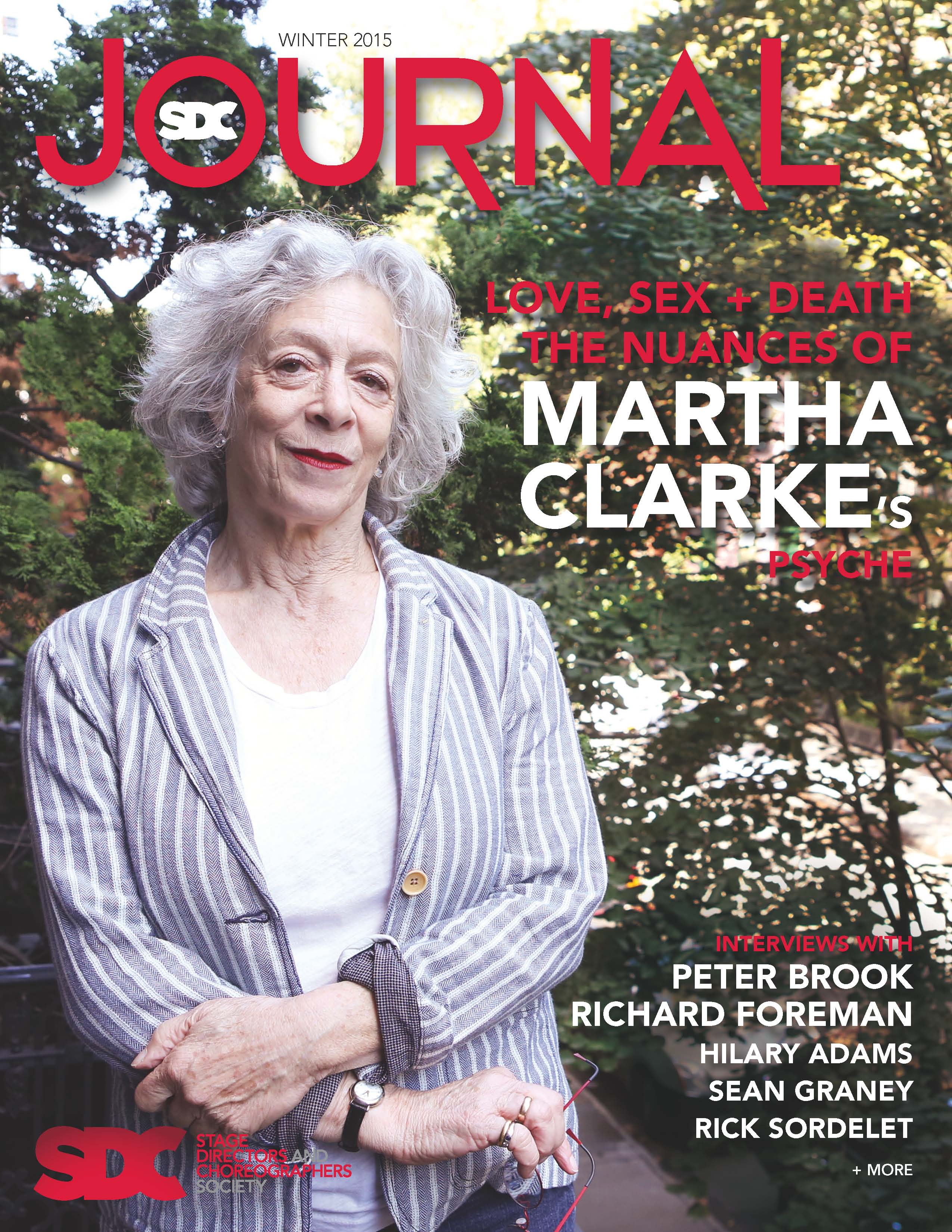 I recently read an NPR report about a group of Syrian women who were performing Antigone (see "Syrian Women Displaced by War Make Tragedy of Antigone Their Own" at npr.org). The backdrop was their lives and war-torn country, which inspired them to tell the timeless tale anew. Last summer I had the pleasure of seeing Casey Stangl's Oedipus at the Antaeus Company in Los Angeles. This issue shares Sean Graney's journey with the Greek tragedies, produced as part of his fellowship at Harvard. Anne Bogart has been exploring the hubris of war with Persians at SITI Company, the oldest play known. Theatre happens, I thought to myself. It always happens.
Directors direct, choreographers illuminate stories. Distinct visions, unique contributions. Interpretative artists, both generative and creative. Stagers of classics and re-interpreters of classics. Expertise in bringing new work to life, musicals, straight plays. New stories, old stories told in new ways, and forgotten stories remembered. Yes. All of the above.
In every issue of SDC Journal, we try to represent the breadth of the Membership—geographically, stylistically, and generationally. We don't always succeed, and we may never fully, as the paths you follow are so very singular. We try to weave issues together with a loose thread. This edition brings you a central suite that features a few of SDC's most impactful Members, artists whose work resonates across forms and generations; they are barrier-breakers and called auteurs by many. Directors and choreographers who are quite simply remarkable artists and human beings: Martha Clarke, Richard Foreman, and Peter Brook. They are enigmatic, brilliant, simple, and indefatigable. Their work is difficult to separate from space and time. As they surprise and delight us, we fear them, and we admire them for their clarity and uncompromising values. Their careers bridge styles and forms; they have evolved in a very specific time and place and still resonate deeply today. We gain a small glimpse into the processes, ambitions, and lives of these profoundly distinctive artists who have inspired countless artists and will do so for generations to come.
We also take you to Omaha and North Carolina. Hilary Adams has recently found a new home as the Artistic Director of the Omaha Community Playhouse. In New York we celebrate the latest addition to the illustrious list of Zelda Fichandler Award winners, including 2014 recipient Joseph Haj. His impact, while grounded in Chapel Hill's PlayMakers Rep, reverberates across the country. Joe challenges us to be bold and unwavering in our responsibility to work harder, to ensure that the work makes a difference for audiences and artists alike. He is fearless. SDC Foundation is committed to cultivating this bravery and courage in the regions by bringing forth the annual class of Fichandler Award winners and finalists—an inspiring group you will meet within these pages.
As we celebrate these artists of the new century, we also look back, always remembering the audacity of those shoulders upon which we now stand. The leaders of today will become the mentors of tomorrow, and some will become legends. Alan Schneider is remembered in "In the Archives," and it's particularly fitting in this issue as Zelda Fichandler and Alan are inexorably bound. We hear the late Gil Cates tell stories about Alan while Susan Einhorn shares how he "tested, provoked, prodded, teased, pushed to the limit of what you could contribute." Reading about Alan, I find myself skipping back to reread Richard Foreman's advice to today's artists to "have the courage to follow your most idiosyncratic instinct. Find that most radical, insurmountable difficulty in your work and make that the center of your work."
And we say goodbye. Two iconic leaders in the crafts of directing and choreography have left us. Pam MacKinnon pays tribute to the incomparable Mike Nichols in these pages with eloquence and grace. We also recognize the distinctive Geoffrey Holder, who in fact made his Broadway debut in 1954 as a dancer in Peter Brook's House of Flowers. Mr. Holder serves as an inspiration today for his uncompromising commitment to reimagining what the experience of theatre could be for "that young boy, sitting in the back of the balcony." He certainly made good on his promise.
As this lands in your mailbox, we are already deep into the Spring Issue, which will explore various perspectives on reinvention, replication, and preservation. Planning is also underway for our special Summer Issue, which will feature SDC theatremakers in Los Angeles.
Until then, I am going to follow Peter Brook's advice and take part as often as possible in the time-honored European tradition of en attendant—"the one who waits"—who attends, sits, and watches.
Happy New Year,
Laura