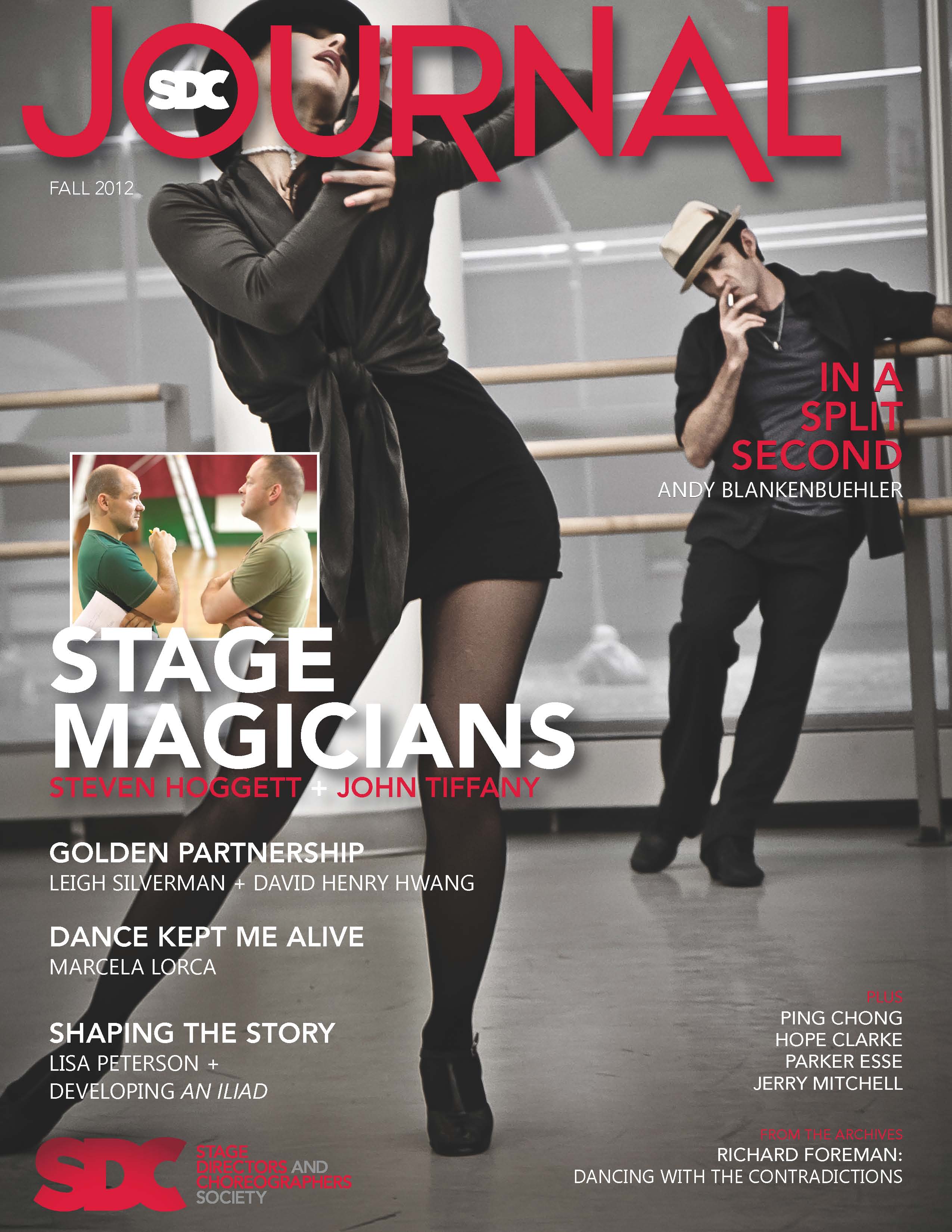 The artist never entirely knows. We guess. We may be wrong, but we take leap after leap in the dark. – AGNES DE MILLE
For this second edition of the SDC Journal we feature a moment with Agnes de Mille on our final "Society Page."  What an extraordinary woman—who was as passionate and articulate with the spoken word as she was at setting bodies in motion.  When the concept of establishing a union for directors was just taking shape, it was Ms. de Mille who went to Shepard Traube and made the case that choreographers must be included, and she prevailed.  She knew then what we still know now—that choreographers, like directors, need an advocate to ensure protections and recognition for their work, a community and a place to explore boundaries of the craft.  She went on to become President of SDC from 1965 to 1967—the first woman president of the Society, and at the time, the only woman in the country leading a union.  While she led SDC, she was creating some of her finest work.  It would be 27 years before another woman, Julianne Boyd, would lead the SDC Executive Board.
Agnes was tenacious in her work artistically and politically.  She faced the world head on with grace and style and strength.  She would become one of the country's most influential arts advocates working with both President Kennedy on the precursor to the NEA and later with President Johnson as the agency was founded.  And she was the first choreographer to move into the role of director/choreographer.
She also believed deeply in a community of artists and understood what that meant in our world with all its joys and struggles.  In a 1963 interview with Life magazine, she said:
"The artist never entirely knows. We guess. We may be wrong, but we take leap after leap in the dark."
Therein lies the challenge of sustaining an artistic career.  With such inadequate funding in place, how does a director or choreographer, or any artist, grow, advance, consider?   How, with all that it takes to get from one job to the next, do we find a place, literally or figuratively, where artists can be artists?
A very close colleague of mine once pointed out that we are a faith-based industry.  We imagine, believe, and have faith that everyone will join in, audiences will show up, technicians will engineer, the writer will finish the play, and no one will ever get sick.  The bigger the dream the more faith is needed, but even the smallest and simplest of dreams relies on a group of creative collaborators working hard and having faith that they can realize the vision. That vision might originate in the impulse of any number of artists— an author certainly, a director or choreographer, an actor, a musician, or a producer.  Regardless of where the end game was first imagined, it is the director who is finally charged with making that vision a shared one.  The director must make sure that everyone finds their way into the same production.
Will it work?  We never know until it does, or doesn't.  In our theatres across the country, we ask audiences and supporters to have faith, to believe that this "leap in the dark" will land and will transport, amuse and amaze.
As I read the final proof of this issue, I found myself wondering what Agnes would think of theatre today and the work of its esteemed artists.  I believe within these pages she would have discovered a gathering of professionals on the edge of an idea, living full and productive creative lives and having faith that it will work.
LAURA PENN
Executive Director