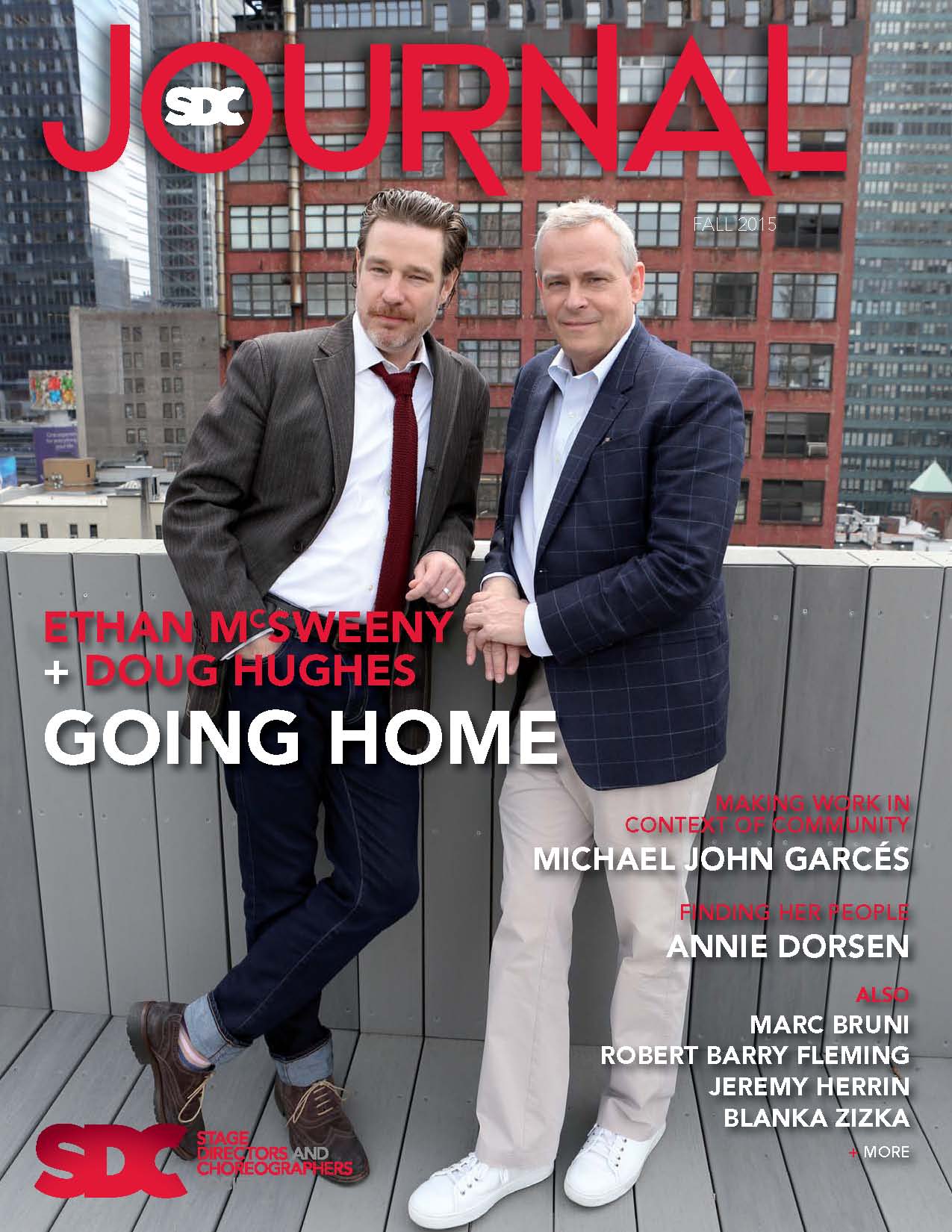 As we prepare to send this issue of SDC Journal to the printer, I am headed to Ohio for parents' weekend at Ohio Wesleyan University, where my son is a sophomore, and I am thinking about identity. Although I'm a parent on this trip, I can't help but find myself drawn to the theatre department. Tomorrow I will spend a couple of hours with theatre majors: aspiring actors, designers, writers, technicians, and, of course, directors. (I must remember to extend an invitation to students from the dance department, just in case there is a choreographer in the making.) On my flight, I am beginning to read José Quintero's 1974 autobiography, If You Don't Dance They Beat You. This highly acclaimed SDC founder appears from time to time in historical journals, Board minutes, and, of course, in theatre lore; his legacy as one of the greatest directors of the 20th century is inescapable.
But right now I am drawn to his personal story. How did he become possibly the most renowned director of O'Neill we have ever seen, as well as an accomplished stager of the works of Williams, Wilder, and others? What are the chances that a Panamanian-born Spaniard would become a leading figure in the American theatre, and that we would be grateful to him and his collaborators—including Theodore Mann—for carving Off-Broadway, with grit and determination, permanently into the NYC theatre landscape? How did this immigrant tap into the very "American" psyche of our early, mid-20th-century authors and audiences?
"If you are going to go into the theatre you must understand that your identity is made up of everything that you have seen or heard." José Quintero. I must remember to share this quote with the students tomorrow.
Identity. In these days of renewed commitment to discourse and, more importantly, action around diversity and inclusion, the idea of identity is powerful and meaningful. Identity must be given consideration as we find a way through the work ahead. What makes up our identity? How are we identified by those around us? How do we reconcile the all-too-common lack of alignment between the givens, choices made for us, and our increasing need to self-identify? How do all the textures of identity deny or provide access? And if your identity is made up of all you have seen and heard, how does that manifest in the rehearsal room?
In this issue of SDC Journal, we have published a special report: the results of a recent survey conducted by SDC's Diversity Task Force. A very clear and powerful statement has been made by the Membership, and now the Task Force moves forward, creating measurable goals and actions to address this opportunity to lead. SDC is a collective of individuals with wide and varying levels of influence and power in a business that all too often operates in a world of scarcity. But we know when the Membership is unified, the power of SDC is significant. This issue was planned long before we knew we would place this report inside the centerfold, and today I find that the theme of identity weaves its way throughout.
I'm going to take a leap and assume I don't need to give background on the game-changing nature of Hamilton. Thomas Kail and Andy Blankenbuehler take us through an often humorous but deeply informative 20+ questions. And I think about "Who gets to tell our stories?"
Michael Colgan, Artistic Director of the Gate Theatre, called upon two Americans to help tell American stories at the internationally renowned theatre in Dublin. Doug Hughes and Ethan McSweeny share their experiences while reflecting on the country of their families' origins.
Czech-born Blanka Zizka built her own aesthetic through the inspiration of Meyerhold and Kantor. Today she craves a new depth of experience for her company of American actors, and so she has called upon director Theodoros Terzopoulos to help her instill a new rigor in their work.
And Michael John Garcés takes us through his path from America to Colombia and back again, passing through Miami, New York, and now Southern California, where his work as Artistic Director of Cornerstone takes him daily to the place where he is challenged with identity and the question of who gets to tell whose story.
In the archives, we hear from John Dillon, Paul Weidner, and Josephine Abady on working abroad in the early '90s. And Annie Dorsen takes us across Europe as she explores a new way of working—focused on chance and algorithms—and I pause when she says she believes we "meet our collaborators a bit by chance." Quintero's obituary from the New York Times (February 27, 1999) tells the story of how he convinced O'Neill's widow to grant Circle in the Square the rights to produce The Iceman Cometh. It wasn't because of his résumé or references; she didn't appear to wonder how this young man from Panama could understand or interpret her late husband's play. She said yes based on the hat he had selected for her to wear. Chance?
I'm finishing this letter on the flight home. I am so very happy to report that faculty and students from the dance department joined us on Friday, without any prompting from me, adding a few choreographers to the mix. I fully enjoyed being in a room with a group of young artists in the midst of developing their aesthetic, considering options, and shaping their identity in the challenging but safe environment of academia. Other than New York, where are the best cities to move to after graduation? Is it really possible to make a contribution to the theatre by teaching? What about choreographers who choose to have their own companies—can they also work in legitimate theatre? And… "Will there be opportunities for me?" asked a young African American directing student. "Knowing it's so hard for anyone to make it in this business, how can I? Do I have a chance?"
Being the optimist, I said yes. Maybe—just maybe—the work of this decade will build on the work of the decades that preceded it, and you will find access and opportunity in a way that those before you did not. I shared the commitment I see every day from SDC Members to mentor and support young artists, to give back, as so many tell the tales of those who gave them a hand up. And I think I was able to successfully impart a few thoughts on why theatrical unions are important and share a few ideas about the various paths to the myriad destinations in this business.
Flying home, I thought, wouldn't it be great if we find this young man, in the not-too-distant future, taking on the great work of August Wilson while giving us gifted interpretations of Chekov and sharing new perspectives on the work of, say, Lillian Hellman?