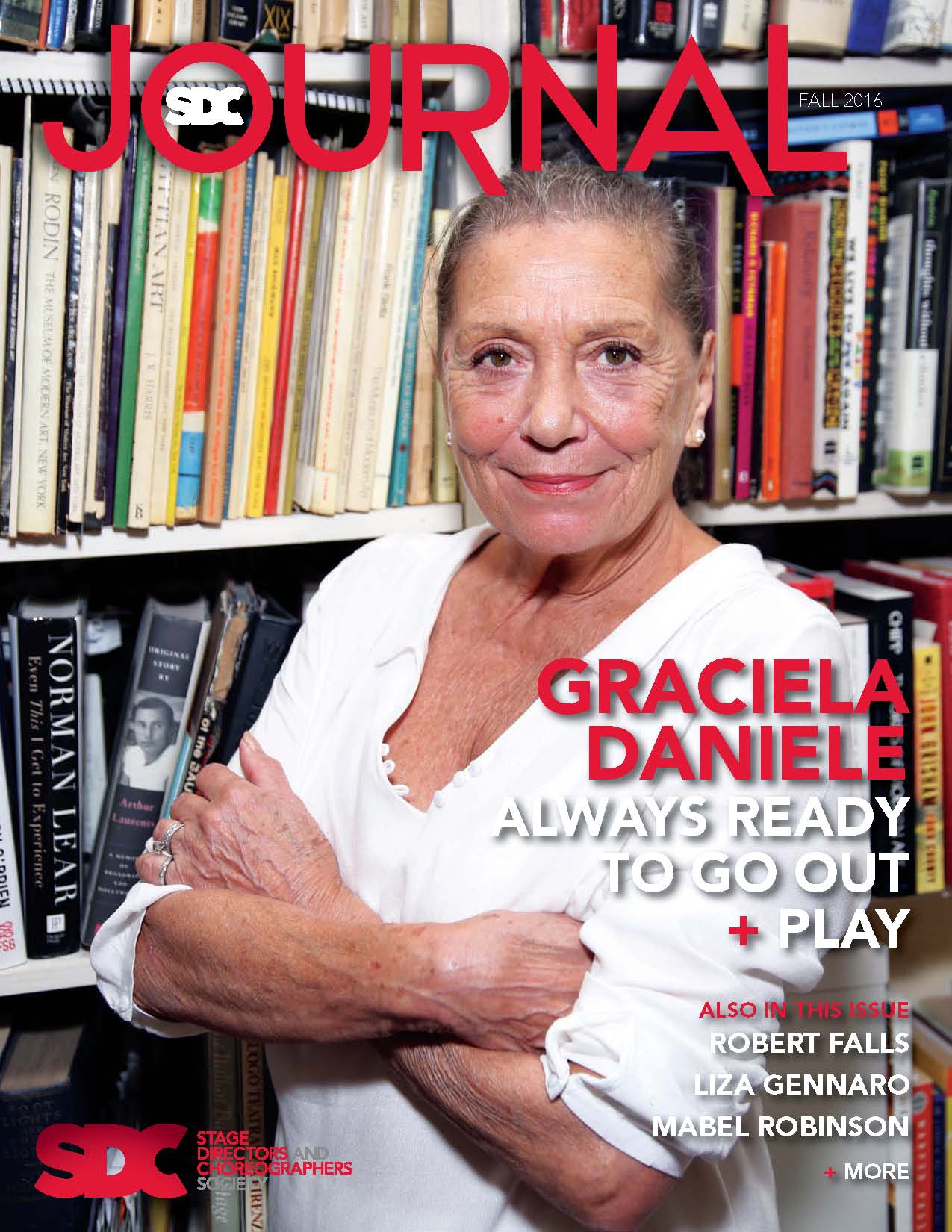 With the energy and input of the SDC Journal Editorial Advisory Committee, we plan our issues of the magazine about a year in advance. When we consider thematic suites, subjects of the various columns, and events to be highlighted in the Society Pages, we are always thinking forward with an eye on the future of the craft and the industry. We try to surprise you with profiles of Members you might never cross paths with or of icons who share little-known secrets about their lives or their artistic processes. We plan with an awareness that our articles – read by so many emerging artists – capture the legacy of more well-established Members. We are proud to be a part of the process of passing down lessons about challenges, successes, struggles. The stories told in our pages are offered to enrich the craft and nurture the next generation of theatremakers.
The issue in your hands now is framed around a suite of articles loosely embracing the theme of legacy. The great Graciela Daniele tells of her journey as a young dancer growing up in Perón's Argentina and takes us through her Broadway successes. We discover Robert Falls, now 40-plus years into leading the Goodman, still digging deeper into his own craft and seeking out new experiences. Liza Gennaro guides us through afamily tree of Broadway choreographers with a timeline that links the "who begat whom" represented in iconic Broadway shows.
But when we planned the legacy issue almost a year ago, we had no way of knowing we would lose five iconic, singular, world-changing artists as we were putting these pages together. Edward Albee, Gordon Davidson, Zelda Fichandler, Jack Hofsiss, and James Houghton: five very distinctive, exceptionally brilliant artists who left indelible marks on the American theatre. The characteristics they share bind them to each other and to us. They each possessed clarity of vision matched by passion and the tenacity and capacity to fulfill their dreams for all of us. They have shown us what courage and bravery look like. The loss of each one has sent reverberations through the industry and caused more than a few tears.
James Houghton. It was too soon for us to lose Jim. Nearly 20 years ago – when Signature Theatre was maybe one or two seasons into its life – I was invited to a focus group at the Mellon Foundation. About eight to10 of us gathered around a table to explore the opportunities and challenges ahead as we looked towards the turn of the century. Jim was there, along with Kathleen Chalfant, Doug Hughes, and others…no one at the table was inarticulate. But the energy couldn't help but bend towards Jim – towards his generosity and the force and clarity of his purpose. In hindsight, it was clear that the future for so very, very many theatre artists was to be with Jim and Signature.
Zelda Fichandler. In 2009 SDC's 50th Anniversary celebration was co-chaired by Tom Moore and Larry Carpenter. With Tom leading the way, they championed the establishment of the Zelda Fichandler Award that year. The Award was created to honor SDC Members working with the same passion and dedication as the founders of the regional theatre movement. Founders such as Margo Jones, Gordon Davidson, William Ball, and Craig Noel. In Zelda's name, the award honors the leaders of the regional theatre movement by recognizing current visionaries and providing them with a littlespiritual support and a modest financial gift to help hold the course. There were six winners since 2009 who were lucky enough to meet Zelda—artists who otherwise may not have had an opportunity to sit with her, to speak with her. And in the years ahead there will be many more who, through this Award, will take with them a bit of her spirit and the responsibility to carry on. I belive it brought her joy to get know these artists, and that she appreciated knowing SDC would join others in carefully stewarding her legacy.
Jack Hofsiss. At 28, he made Broadway history as the youngest director to receive a Tony Award for his production of The Elephant Man. Jack's life in the theatre is a story of brilliance and heartbreak. His gifts as a director are heralded by all, and to say he had perseverance seems so inadequate. Life for freelance director in this industry is never easy. Jobs are scarce, and anxiety rests just under the surface of even the most established. Jack forged a path filled with seemingly insurmountable odds following personal tragedy. Paralyzed by an accident at age 34, Jack never walked again, using a wheelchair to navigate the rehearsal halls and stages in an industry that (let's face it) is not hospitable to the physically disabled. Jack mentored young directors through SDC Foundation's programs, taught, and continued to make great work. Although I never met Jack, I was maybe 18 when I slipped into a performance of The Elephant Man on my first-ever trip to Broadway. I still have the Playbill and can feel the damp, dark confines of the Elephant Man.
Edward Albee. Yes, an SDC Member, his directing work included the Broadway debut of Seascape and his Drama Desk Award-nominated 1976 revival of Who's Afraid of Virginia Woolf?– but, of course, he was Edward Albee, the great American Playwright. It seems safe to say that Albee's impact on the lives of directors is immeasurable. His deep and long-standing relationship with a circle of collaborators is well known; directing an Albee play is a rite of passage. He was a writer who had very clear vision of how his plays were to manifest off the page. As Three Tall Women was released for regional licensing, a tug of war broke out in Seattle over which theatre would secure the rights. Usually, this local squabbling is resolved by the almighty dollar. In this case, it was Intiman Theatre and Seattle Rep vying for Edward's blessing. After plenty of back and forth, Edward came to Seattle. I can only state with certainty that he met with Intiman Artistic Director Warner Shook, but I know he walked the stages of both theatres. In silence. He sat in the house. He had a writer's eye, yes, but this was a very director-like moment. (He chose Intiman.)
Gordon Davidson had a smile that lit up the world, and the generosity of his spirit was legendary. He believed theatre belonged in the center of our communities, the center of our lives, and he always placed artists at the center of the work. In the shadow of the Hollywood sign he directed and produced challenging, provocative work, and was more than successful in creating a thirst for more in audiences. Gordon showed all of us in the regional theatre how to be a home to new work. He opened the door for many, so very many artists, with an all too unique dedication to underrepresented artists, many of whom are now shaping the American Theatre of the 21st century. And – he had a great hug.
We were so lucky to know them, to see their work, to cross paths with their greatness.
Today none of it seems enough as we process the reality that these geniuses of the theatre are no longer with us. I do know that it is the relationships they had with you that changed the course of the American Theatre. I share in, and I am witness to, your mourning. They leave us with a vast, empty space and a silence—a kind of quiet for the moment but one which will be filled by their legacy, by all they passed down. I believe the theatre will always to be informed by the inspiration, friendship, and love you shared with Edward, Gordon, Zelda, Jack, and Jim.