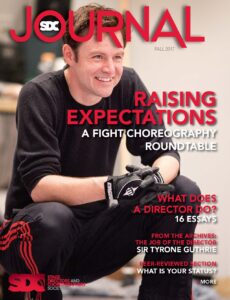 As I write this letter in mid-August, mayors are pulling down memorial statues of Confederate officers in our cities, governors around the country are discussing new street and highway names, and school board officials
are gearing up for another year of doing more with less. I feel nervous and angry—at times exhausted—while also fiercely committed.
With this issue of the Journal, another election season is upon us. I encourage all our Members to participate at every level, for it is often the local official who voices today what winds up becoming state and national policy tomorrow. We are a highly motivated, national Union of storytellers, educators, administrators, and leaders. Use your voice to demand continued arts funding, attention to health coverage, fair labor practices, and support for the First Amendment that does not conflate "free speech" with white supremacist violence and intimidation, among other important issues that affect not just your Union, Members, and fellow artists, but your community writ large.
I also ask that you participate in your Union's elections. In 2014, 598 Members voted in the Board elections; in 2015 only 535 voted. Last year, when we first instituted electronic balloting, our election participation went up to a record 790 votes cast. A huge leap, but keep in mind that this is out of a potential 2,015 Members, so an all-time high participation rate of 39 percent is exciting but I'm not writing home quite yet. I am hopeful that our participation rates will continue to improve. Please vote! We count each ballot, and it makes a difference.
As the Union's agenda becomes more ambitious, it is even more important that the Board truly reflects the Members' interests and concerns. The composition of the Board as a diverse body is crucial. Geographic, racial, generational, and gender diversity are all important to the Board's understanding of Member needs and ability to support and protect issues in our workplaces and about our craft. As a freelance director based in New York City, I know I am able to think more deeply and therefore make better decisions when the Board represents our breadth. The choreographer passionately and patiently walking us through an issue brought forward for our consideration is critical to our deliberations, just as someone familiar with the intricacies of the Off-Broadway Agreement provides the needed expertise that an artistic director from a different jurisdiction may learn from, and vice versa. As you review the slate and consider your votes, please remember we need all these voices to ensure we represent the Membership.
You will be receiving an electronic ballot shortly. Please dig in. There are eleven Board positions available. Several incumbents are running along with many new candidates. You'll find their statements deeply personal and focused on action. Please review the slate and cast your vote to strengthen your Board. And, if you are running, I encourage you to reach out to colleagues with a friendly reminder to vote. I am eager for our Union to break last year's participation record.
In Solidarity,
Pam MacKinnon,
Executive Board President