"What about if…?"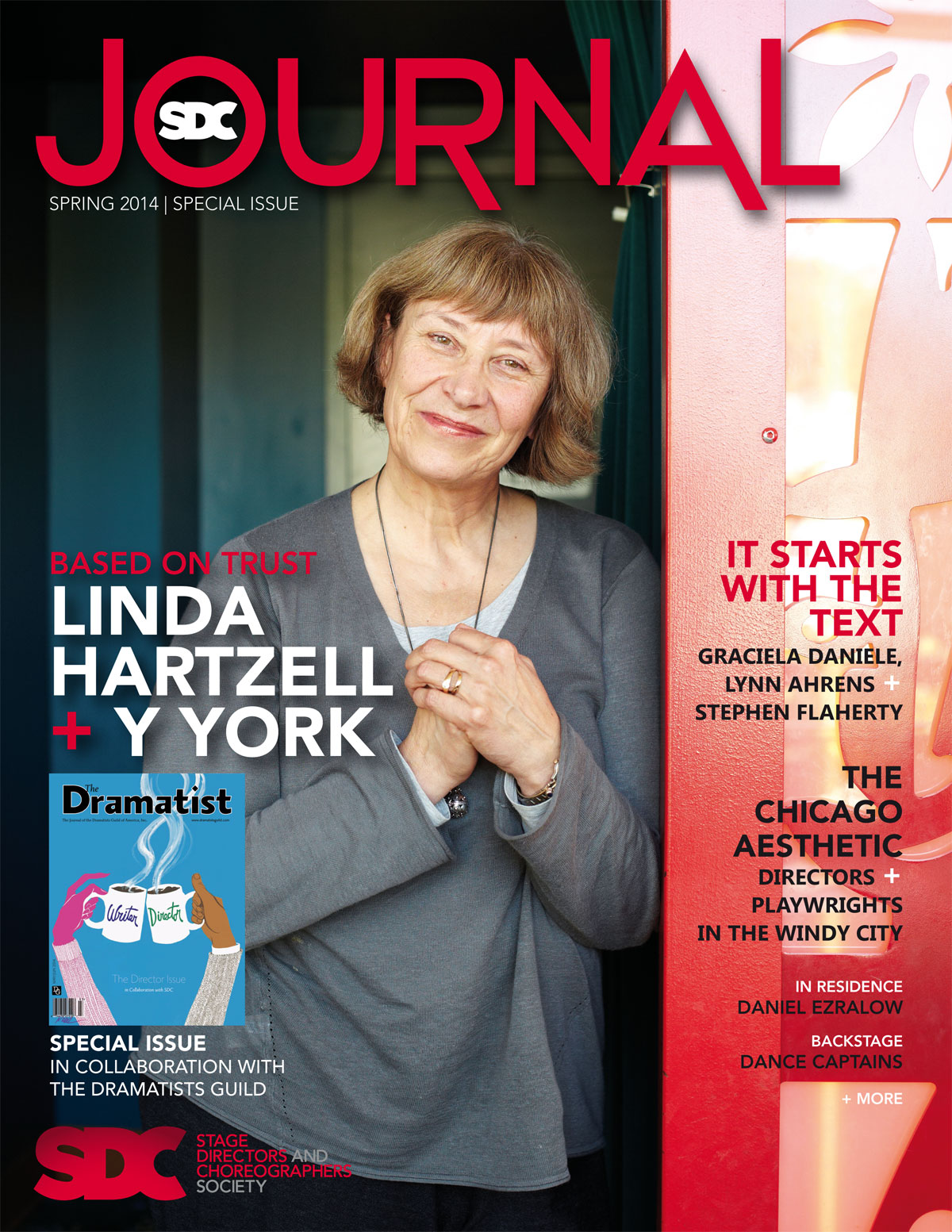 Moss Hart was one of the founders of SDC. As someone who overcame a childhood of abject poverty to become one of our great directors and dramatists, he would say in many ways it was the "boldness to dream" that propelled him to the heights of Broadway.
In addition to boldness, making theatre requires agility, flexibility, and adaptability on the part of collaborators. And a good sense of humor never hurt. We have a structure—a rehearsal process, tech, sitzprobe, previews, and opening. We have marks we set out to hit—by this day we will be done with that, by that day we will be done with this, and then someone says, "What about if…?"—one of Graciela Daniele's favorite phrases. Curiosity, it seems, is one of the critical characteristics you can find in many directors and choreographers. A kind of skilled inquiry. What about if…SDC and the DG strengthened their relationship with a goal of advancing the crafts and lives of their collective memberships? That could be powerful.
You have just started reading the final issue of Volume 2 of SDC Journal. And our first special issue. I was looking back on my letter in the inaugural issue in July of 2012 where I articulated some of SDC's goals for the early years of the 21st century. Most specifically I revisited the goal "to help deepen the understanding within our own constituents, as well as the larger community, about the work that directors and choreographers do." Your feedback and enthusiasm for this magazine is encouraging. The list of ideas to explore, artists to interview, and events to cover seems to grow exponentially with each issue. In the coming year, we have plans to grow our distribution beyond our own Membership with particular attention to the critical world of higher education. Just a dream a few short years ago, we can now imagine SDC Journal will be around for a very, very long time.
How appropriate that our first special issue should be published in collaboration with the Dramatists Guild of America, the playwrights, composers, and lyricists who are most often the primary collaborators of directors and choreographers. In this issue you will find articles and interviews co-produced by SDC and the DG, in addition to the section in the center of the magazine that Susan references in her letter. Some articles will appear in both SDC Journal and The Dramatist. Some appear in only one magazine but share the theme of collaboration and relationship. For example, you will read in SDC Journal about Linda Harztell's longtime collaboration with playwright Y York. After that, if you would like to read about a totally different collaboration—that of playwright Tanya Barfield and director Leigh Silverman—you will need to get yourself a copy of The Dramatist. Another passionate conversation that can only be read in The Dramatist features a number of prominent artists who are esteemed Members of both SDC and the DG. Last month, Doug Wright facilitated a conversation with Emily Mann, James Lapine, and George C. Wolfe on their lives as writers/directors. In the spirit of shameless promotion of our colleague's publication, I encourage each of you to get your own copy of the May/June The Dramatist by emailing:
publications@dramatistsguild.com
This new collaboration with the DG is a great story, yet not a simple tale. Relationships between two people are hard enough. Here we have two organizations comprised of thousands of talented, ambitious individuals. It is an important relationship for us all, individually and collectively—one with many chapters having already been written and well read, but now we look forward with great hopes for the future. I do not seem to have the right spatial acumen to guess at the number of jelly beans in a jar, so I would not dare to guess how many points of view, deeply connected lifelong partnerships, or difficult but productive collaborations, or difficult and unproductive relations exist in pairings between these exceptional artists. I will be so bold as to say that I know that the most dynamic, provocative, and fruitful work comes to life in the place where trust, respect, and rigor reside. Often, for our Members, that work with playwrights begins with a finished script or a draft, and at other times with simply an idea. But no matter where a director or choreographer engages, each artist sets out to bring his or her best to the collaboration.
SDC's Executive Board and the DG Council can only be referred to as an impressive group. These artists find the time and energy to commit to their communities making investments, many of which will only come to fruition for future generations. The joint work most recently led by former SDC Board President Karen Azenberg and DG President Stephen Schwartz is just such work.  It has the potential to make a real difference. I want to thank my colleague at the DG, Ralph Sevush, Executive Director for Business Affairs. His candor is always deeply appreciated. He is a fierce and dedicated friend to writers. I also want to thank Gary Garrison, Executive Director for Creative Affairs. Gary is himself a passionate advocate for his Members, bringing vision and ambition to the DG and its members around the country. Gary, Ralph, thank you, to you and your editor, for managing the coordination of these two issues. I know all too well this was no easy feat.
Speaking of no easy feat, as we go to press, SDC prepares for our first meeting with our newly formed Diversity Task Force—quite a lot of potential for "What about ifs?" SDC as a labor organization and a "society" believes strongly that we must represent the critical issues of our Membership. Our relationship with the DG is one such issue, diversity is another. With Seret Scott and Michael John Garcés' leadership, we will look to explore how to create a shared vision among and between this very disparate group of individual artists who are by their very nature distinct and unique. We want to understand how we can use our stature to create broader, deeper access to jobs and positions of influence for all of our Members with particular attention to underrepresented communities such as artists of color and women. This issue contains excerpts from December's SDCF Diversity Forum in Los Angeles, which just scratched the surface of a conversation we will likely be engaged in well into the future.
Our world has changed a great deal from Hart's time, and still his work and his life serve as an inspiration to many. With the depth of diversity and the complexity of our national theatre today, can we find a way for bold dreams to unlock the gates for everyone, regardless of who they are or where they come from?