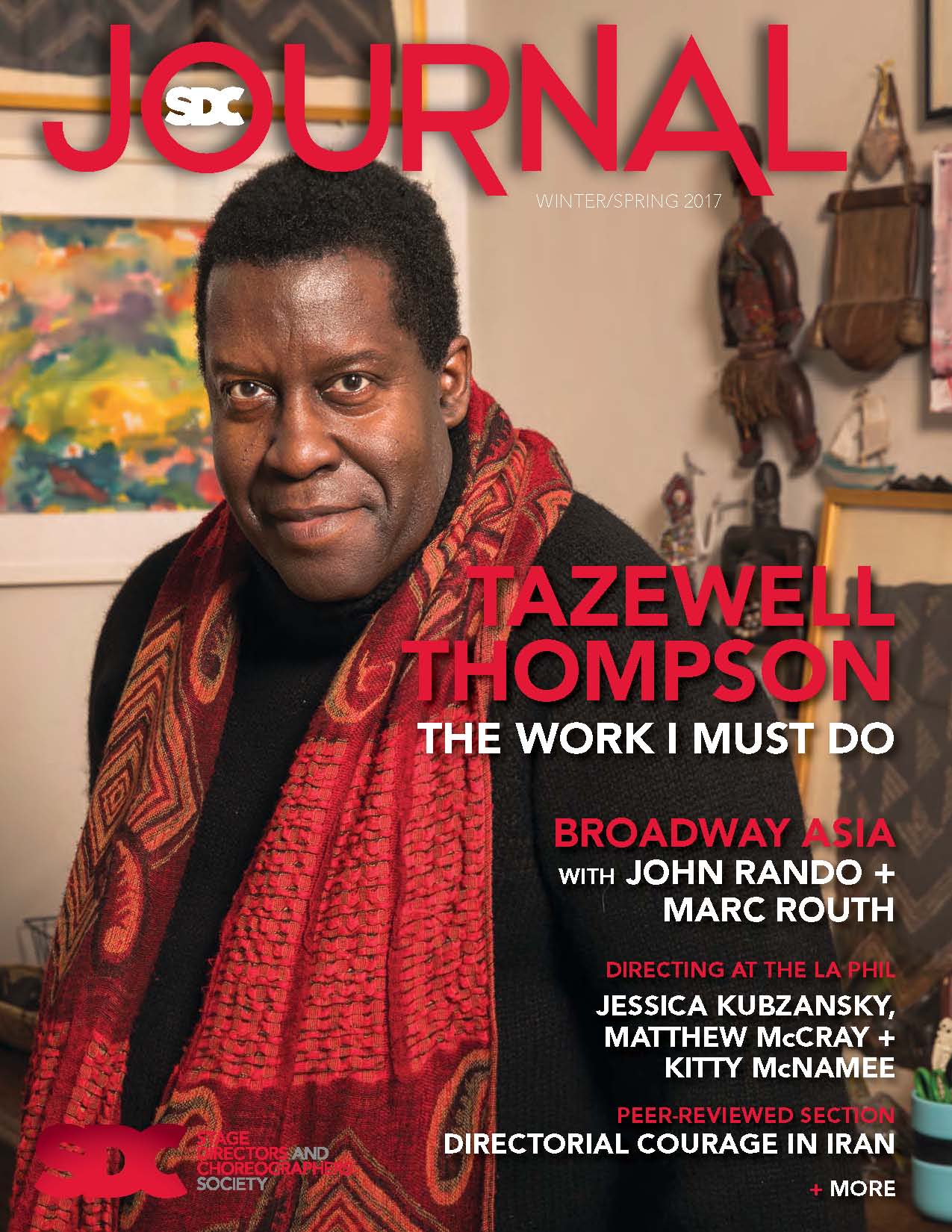 Rehearsing when the world goes crazy is both a blessing and a curse. It is a blessing to go to work, to be expected at a certain hour and have to move forward, even though one's first instinct might be to pull down the shades. It's a curse because it can feel as if the room itself is in denial to the events of the day, pretending that it's business as usual in order to meet ongoing deadlines. That we gather on yet another day, creating a story for future consumption that likely will not be rewritten per se but will be heard differently from the day before, can feel rarified and nutty.
On November 8 and November 9, I was in rehearsal for my musical Amélie, a very open-hearted show about a young woman coming of age. November 8 was a celebratory day, with younger associates wearing the "future is female" shirts, political buttons; someone had brought in flowers. We changed our hours to accommodate people's voting. There was a lot of laughter. From our rehearsal hall windows, we watched voters lining up at a polling place. Confident, cocky New Yorkers all.
The next morning, as we approached full company quorum, I spoke about the election results with a quaver in my voice about feeling grateful for the room, about our day together, my fear for where our country was heading, and also about empathy. Craig Lucas, our book writer, spoke about activism and dangerous art. Adam Chanler-Berat, my male lead, spoke with tears on his cheeks about how important working on a show about a young woman felt to him on that day in particular. Phillipa Soo, my female lead, spoke about community. Sam Pinkleton spoke about remembering to breathe through the workday and grounding our voices as we processed what we could not control. Songs sounded different all day. Over the week, younger colleagues asked if this had ever happened before. What was one supposed to be doing?
Now, as president of our Union, I want to ask of our Membership, what are we supposed to do in this moment? Directors and choreographers are leaders. Our day-to-day work in rehearsal halls, classrooms, and meetings is all about leading communities of the moment into action—building stories. How do we use these skills at this uncertain and likely dangerous time? Labor unions are vulnerable, as right to work legislation will likely flourish under the next president and Congress. Freedom of speech and assembly will likely come under further attack. Changes in health care laws may affect our health care plan's costs. Diversity and inclusion in our field and the arts generally are more important than ever.
A few days after the election, outgoing SDC President Susan H. Schulman led a discussion at the Annual Membership meeting positing that the Union should step into political action. We are a national organization with large reach and a passionate Membership, many of whom are already or eager to become more involved, more educated in policy, more aware and plugged in. The new Board and I, along with Laura Penn and SDC staff and new Director of SDC Foundation David Roberts, are heeding this call. Much discussion is being had about what political actions we should take to strengthen the Union, giving voice to the concerns that directly affect our Members. We are rapidly trying to put these conversations into concrete action. The Journal is a platform for discussion and education, and the Editorial Advisory Committee plans to ensure these pages are infused with the passion and engagement so many of our Members share, inspiring others to join in our efforts to protect and build a civil society.
Please stay tuned—and, as importantly, reach out. Get involved in the Union. Raise your voice beyond your rehearsal hall or classroom or meeting.
In solidarity,
Pam MacKinnon
Executive Board President